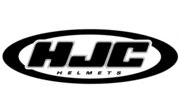 HJC
Blackburn Motorcycle & Scooter Centre are proud to be an official dealer of HJC motorcycle helmets, the number 1 choice of helmet! View our selection of HJC helmets on display in our huge showroom situated in Blackburn, the Northwests premier motorcycle & scooter centre.

Since 1971, HJC has specialized in manufacturing motorcycle helmets exclusively. The combination of this extensive specialized manufacturing experience, innovative ideas, and reasonable pricing resulted in HJC's success in worldwide markets. It is HJC's continual goal to provide high quality, comfortable, and reasonably priced helmet to motorcyclists around the world.

As a direct result of this mission, since 1992, HJC has succeeded in maintaining the status as the #1 helmet brand in North America. (Refer to Motorcycle Industry Magazine 1992-present) More importantly, motorcyclists worldwide make HJC their brand of choice. And with a wide selection of helmets in the mid to high price range, HJC has expanded consumers' choice in helmets.

In the modern era of helmet manufacturing, HJC is proud to say that our helmets are constantly tested in both laboratory testing as well as in "real" life for quality assurance. HJC is only one of very few helmet companies that are equipped with its own state of the art wind tunnel testing laboratory to test for aerodynamics, ventilation, noise, etc. Further, HJC has 3 helmet factories in 3 strategic locations; Korea, China and Vietnam. These factories provide strategic venues to produce high end, mid, and entry level products to satisfy the high demands of consumers worldwide. In the fall of 2010, HJC has expanded its range with the introduction of RPHA 10 full face helmet that features extremely light weight shell, with patent pending center locking mechanism, aerodynamics and comfort. This model showcases our technical capabilities and innovations such as our advanced ventilation channeling system and our unique composite shell designs. The RPHA 10 helmet is being worn by professional racers including 2011 Moto GP Factory Yamaha racer Ben Spies (2006, 2007, 2008 AMA Superbike Champion, 2009 World Superbike Champion). What sets our RPHA 10 apart is that it offers all the features of high-end helmets at prices the average consumer can afford, an accomplishment our high-end competitors have not been able to do. The RPHA 10 helmet offers extremely light weight for rider comfort. In fact, it is one of the lightest Snell 2010 helmets in the market place, if not the lightest. In addition, to the RPHA 10 our new IS Series have an interior sunshield system that have been one of the best selling helmets in the marketplace. Our concept utilizes a solid central track mechanism to open/close the interior sunshield in just an instant for full optical protection from the sun. The days of stopping and changing shields to guard against the late afternoon sun are over. Advance into the future with HJC's newest helmets!

With the addition of the helmet models mentioned above, it is clear that HJC continues to be a brand that is friendly to motorcyclists around the world providing safe, comfortable, stylish and affordable helmets.
A2Z of HJC
HJC CL-SP
(On display in Motorcycle Helmets » FULL FACE HELMETS)
HJC CL-SP
(On display in Motorcycle Helmets » FULL FACE HELMETS)
If you can't find the items you are looking for within our main site, you should be able to view the complete range from HJC by visiting their own website: (although please be aware that not all products may be available within the UK)
VISIT
HJC Website