ORDER YOUR NEW MOTORBIKE ONLINE AND WE CAN DELIVER TO YOUR HOME OR WORK PLACE
THE ZERO DSR/X IS HERE!
Wednesday 28 December 2022 Filed in: General
The world's first 100% electric adventure motorcycle has arrived in the UK to order, we even have a demo model available now. 100% Electric, Zero Emissions, Low Maintainance Costs #ZEROMOTORCYCLES
ZERO DSR/X ZF17.3 2023
Licence Required A
100% Electric Motorcycle - supplied by WhateverWheels.
APPLY FOR FINANCE

WhateverWheels are the North West's Official Zero Motorcycle dealer and are happy to introduce the Zero DSR/X ZF 17.3 Electric Twist & Go Motorcycle!
Precision Performance & Control
The DSR/X inspires confidence on your journey through an upright riding position with high ground clearance, coupled with instant and smooth acceleration powered by Zero's newest direct drive motor, the Z-Force 75-10X, to easily tackle extreme terrain. This new motor configuration produces the highest output of power ever from a Zero- a whopping 225 Nm of torque, more than enough to power the fully loaded DSR/X and rider over any terrain. Rear shock preload settings are hand-adjustable to dial in a smooth ride with light or heavy loads. DSR/X will be the first electric motorcycle with Bosch's Off-road Motorcycle Stability Control (MSC) which adds further safety, control, and confidence for riders of all experience levels on/off-road in variable traction conditions. Also, the DSR/X is capable of new Cypher III+ features like faster charging, more battery capacity, turn-by-turn navigation, and Parking Mode which adds the ability to ease forward and backward into a parking spot or to aid in clearing tough obstacles. *DSR/X comes in stock with every available Cypher III+ feature.
Z-Force 75-10X Motor
The DSR/X's unique Z-Force 75-10X direct drive motor variant is specially tuned for the rigors of navigating rough terrain. The Z-Force 75-10X delivers 225 Nm. of torque and 100 hp of immediate power that effortlessly navigates any obstacle and reaches a top speed of 112 mph. All this along with Zero's renowned internal permanent magnet, brushless architecture, and a passively air-cooled, compact design that delivers class-leading performance and efficiency with virtually no preventative maintenance required.
Linked Braking
With the DSR/X, we are introducing our first bike that features a linked braking system. Controlled by the integrated Bosch Advanced Stability Control System, it activates instantly upon sensing a loss of traction or any slippage. The system immediately applies the right amount of braking to the front and rear brakes simultaneously, providing added control when climbing or descending steep, loose terrain.
Bosch Vehicle Hold Braking
Vehicle Hold braking is engaged when you come to a stop on a steep slope by clamping the brake lever all the way down and releasing it. Serving as a temporary parking brake, it frees the rider to make any adjustments needed on a steep pitch. When the throttle is engaged braking automatically deactivates allowing for a smooth start on a steep incline. Additionally, Bosch Vehicle Hold Braking is auto-canceling and will release brake pressure after one minute has passed.
Gates Carbon Belt Drive
Zero has collaborated with Gates Carbon Belt Drive, the leader in belt-driven powersport technologies, to develop a wholly new belt system for the DSR/X. Wider, stronger, and more capable than ever, the belt drive system for the DSR/X is designed with larger, ported sprockets to reduce bend angles and eliminate debris from the drive train. This combination results in a more durable drive system that is less susceptible to the rigors of the terrain riders will throw at it than ever before.
A Fully Immersive Ride
With no emissions or noise pollution, the DSR/X leaves you feeling more impacted by the experience, while having a reduced impact on the environment. Boasting our industry leading, gear-less, direct drive powertrain that's whisper quiet and impossibly smooth, you become fully immersed in your ride. All this technology provides virtually silent performance and an emission-free ride that delivers a new experience on every adventure, from the twists and turns of mountain passes to taming the terrain beyond where the road ends.
Instant Adaptability & Customization
The new DSR/X suite of available premium accessories rounds out this best-in-class, fully capable flagship adventure motorcycle. Beginning with five standard ride modes, the DSR/X can transform any preprogrammed mode into an offroad mode through the Zero Next Gen App. The ability to adapt to any ride conditions on-the-fly is at your fingertips. Whether it be a weekend adventure or a daily commute to the office, select the ride mode that matches your needs and do it again whenever your needs change. Bosch's patented Linked Braking detects a loss of traction and activates controlled dual braking to further enhance stability. Plus, activating the Vehicle Hold braking feature allows the rider a moment to pause with confidence while stopped on an incline or decline.

Ride Modes
A full suite of preprogrammed ride modes including Sport, Street, Eco, Rain, and Canyon mode are selectable on the fly through Zero's dash interface and customizable through the next-generation app available for Apple iOS and Android. Along with these included modes, the ability to create custom modes allows for virtually infinite ride profile options to cater to individual riding styles or conditions. With the all-new offroad capabilities you can also add offroad traction to any one of the preprogrammed modes which achieve a new level of control in low or variable traction conditions of any kind regardless of the ride mode. Each mode has a different performance profile in key areas such as top speed, torque, braking, and neutral battery regeneration, as well as traction controls and even color and graphic changes. Use what we have preprogrammed or make your own from scratch through the app. Cypher III+ The most intelligent motorcycle operating system available today is at the center of the Zero Adventure Sports experience. In addition to the numerous customization adjustment options included there is a suite of features that allow for deeper customization of various performance criteria. DSR/X will come with all the Cypher III+ features included. Features include faster charging and increased battery capacity, turn-by-turn on dash navigation, and Parking Mode that provides a slow reverse gear to aid in getting over a critical obstacle or parking in a tight spot.
Showa Suspension System
An all-new front and rear suspension tuned to keep the rubber in contact with the road provides a controlled, comfortable, and agile ride down the highway, with unprecedented capability in the dirt. Fully adjustable 7.48 inches / 190mm of travel up front and 7.48 inches / 190 mm in the rear provide the added travel needed for offroad terrain. The rear shock features a hand-adjustable preload to dial in the perfect ride height based on load for on-the-trail adjustments.
Explore Further
Equipped with our largest capacity battery, the Z-Force 17.3 kWh, DSR/X riders can extend their range even more to a massive 21 kWh of charging capacity with the optional Power Tank upgrade. All this capacity is supported by public and private investment that has led to an ever-growing network of over 90,000 public EV charging stations in the US alone. With an estimated 8% annual increase in charging infrastructure around the world including even in some of the most remote destinations. EV charging has never been so accessible. These stations are convenient to locate on apps such as Plugshare.
Z-Force 17.3 kWh Battery Pack
The Z-Force 17.3 kWh is our largest capacity battery pack, and it comes in stock for the first time ever on the all-new DSR/X. With the optional Power Tank equipped, the DSR/X is configured to a 21 kWh pack. Its industry-leading power and energy density combined with an aluminum heat-sink housing and thermal transfer interface ensures consistent cell cooling and maximum long-term powertrain performance. All numbers quoted are based on explicit test conditions. Real-world ranges will vary based on a variety of contributing factors including rider weight, road conditions, weather, incline, consistent speeds, etc. Each rider will likely experience slightly different range numbers. * Power Tank: Limited quantities available early 2023.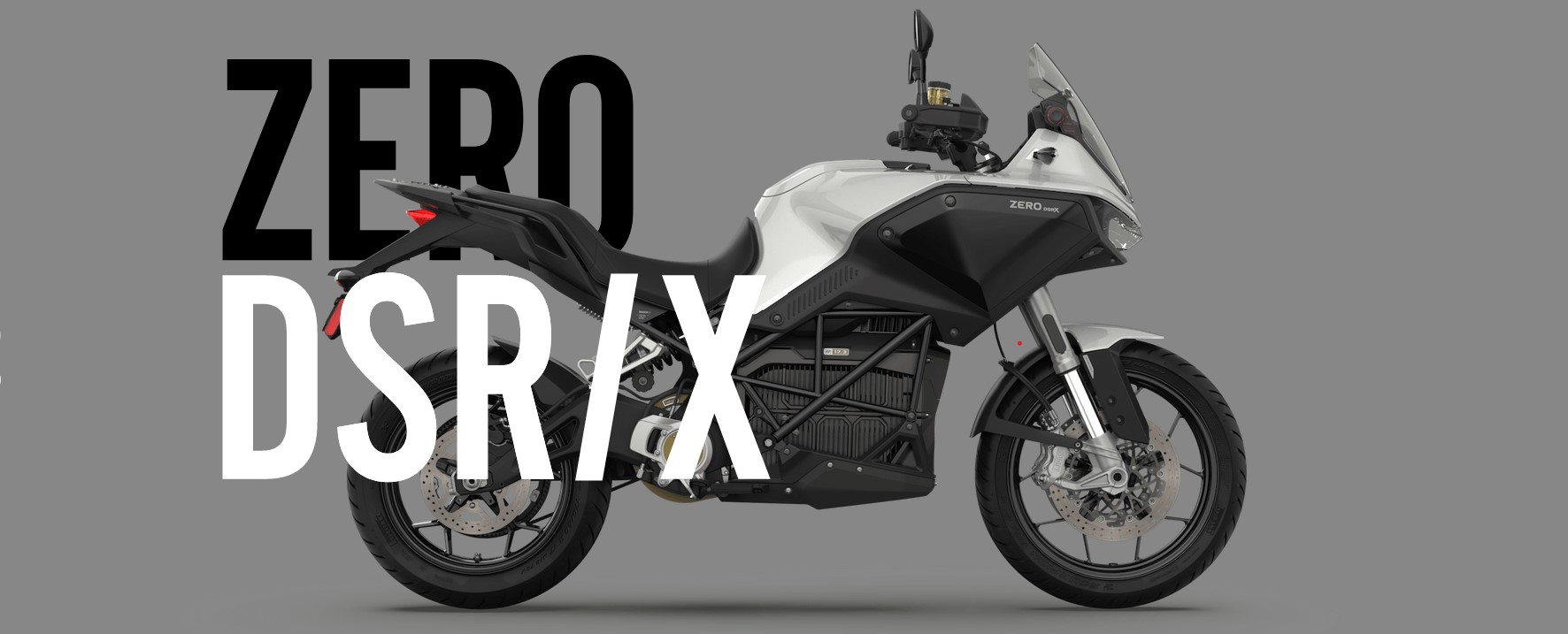 Rapid Charges System
Our scalable Rapid Charge System allows the bike to be configured for different charging levels. The DSR/X 6kW comes upgraded to 6.6 kW through the included Cypher upgrade. In addition, another 6 kW charging module is available for purchase (dealer install required) that can achieve up to 12.6 kW. (Charge to 95% in approx. 1 hour). DSR/X can also be charged via a household 220V outlet in the garage in approximately 2.7 hours.
Ever-Expanding L2 Charging Network
In addition to the 8% annual expansion in both private and public charging infrastructure increase. EV leaders like Rivian are working on their own network waypoints that are compatible with Zero L2 motorcycles. In Europe numbers are climbing fast to nearly 400,000 charging stations. Using apps like Plugshare, riders can find charging spots close to them.
Technical Specification ZF 17.3
Range
City Range: 180 Miles Highway Range (55mph): 107 Miles Combined Range: 115 Miles Highway Range (70moh): 85 Miles Combined Range: 115 Miles EU Regulation 134/2014, Annex VII: 107 Miles Peak Torque: 225nm Required Licence: A Curb Weight: 247kg Brakes: ABS BOSCH Top Speed: 112mph Operating System: Cypher 3 Seat Height: 828mm (standard) Charge Time with charge tank: 1 hour* Transmission: Clutchless Direct Drive Power Pack Warranty: 5 Years / Unlimited Miles
WHAT IS INCLUDED?

WHY BUY FROM US?

WHY BUY ELECTRIC?

WARRANTY

WHAT IS OTR CHARGE?

OFFERS

INSURANCE

IMPORTANT
*Charge time quoted of 2.5 hours is ZF14.4 11kw with charge tank option to 100%.
**Range quoted of 204 miles is including the power tank option. This is intended to provide a reasonable estimate of the riding range that can be expected during 'stop & go' operation typically found in urban areas, such as that prescribed by the 'city test' duty cycle within SAE J2982. Actual range will vary baed upon actual riding conditions and habits.