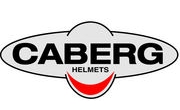 CABERG
The production is constantly checked through a severe quality test process. The commercial network reaches most of the European markets and is present in various non-European countries such as Israel, Russia, Mexico, South America, Hong Kong, Taiwan, Indonesia, Malaysia, Turkey, and Morocco.

Caberg is proud to announce that six of its top of the range models have been awarded with an excellent score (four helmets received 5 stars out of 5 and two helmets 4 stars out of 5) by the SHARP safety test done by the U.K. Department of Transport.

The full range of CABERG products are available but not currently listed on our website.
Please
Contact Us
with any enquiries you may have in relation to ~BRANDNAME products.
If you can't find the items you are looking for within our main site, you should be able to view the complete range from CABERG by visiting their own website: (although please be aware that not all products may be available within the UK)
VISIT
CABERG Website