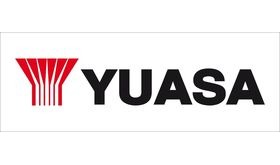 YUASA
Yuasa´s new high performance maintenence free VRLA Motorcycle Batteries...
Starting Power from the biggest name is motorcycle batteries.

Highest Engineering Standards
Highest Quality Materials
Highest Quality Construction
Widest Model Range
Excellent Warranty Coverage

Super MF

Absolutely free from maintenance and acid spillage, the battery is designed for use in any position and over a wider range of temperatures from -20°C to 50°C. The unique gas recombination system remarkably prolongs battery life in addition to stronger cranking performance.

Yuasa SUPER MF BATTERY was awarded a special prize, as the world´s first Maintenance-Free motorcycle battery, at the 1985 International Battery Competition sponsored by Battery Council International held in Toronto, Canada.
Superior High Rate Performance

The electrically low resistant separator and heavyduty plates allow the Yuasa SUPER MF motorcycle batteries to yield 30% more and faster starting power over conventional batteries.
Shelf Life

The special plate material and the bone dry-charge construction enable the storage for nearly 2 years without noticeable loss of charge retention.
If you can't find the items you are looking for within our main site, you should be able to view the complete range from YUASA by visiting their own website: (although please be aware that not all products may be available within the UK)
VISIT
YUASA Website