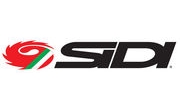 SIDI
For more than 40 years Sidi motorycle boots have been worn by some of the most awesome motorcycling legends the world has ever seen. Names like Giacomo Agostini, Joel Robert and Steve Baker, from a golden era of bikesport, have won domestic and world titles, all wearing Sidi boots. Couple past success with the current leading riders, heroes like Alex Barros, Colin Edwards and Stefan Everts, who all benefit from Sidi's class-leading bike boot technology, and you have a company which has a racing heritage second to none - and it's still a family-run business! As the family say themselves, Sidi is..."A brand proud of decades-long history, we have added a passion for style that only two-wheel riders have". This understanding of both the bike market, and the needs of today's motorcyclist is highly apparent in every single pair of Sidi motorcycle boots in production today.
There are currently no products from SIDI in our site.
Please
Contact Us
for details of this range of products.
If you can't find the items you are looking for within our main site, you should be able to view the complete range from SIDI by visiting their own website: (although please be aware that not all products may be available within the UK)
VISIT
SIDI Website