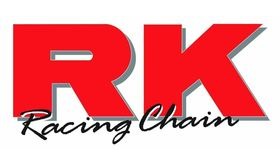 RK CHAINS
a chain is no stronger than its weakest link ??" which is why you should always choose an RK Chain.

Link Up To Heritage ??" Established more than 50 years ago in Saitama, Japan, RK chains boast a depth of experience and proven cutting-edge advancement that have made them a world leader in chain performance technology and manufacture
Link Up To Winners ??" It is no surprise that RK motorcycle chains are used by some of the top race teams and riders in the world, including the Repsol Honda Team China, the RWJ World Champion Motocross Team and Moto GP World No.1 Jorge Lorenzo, if they rely on RK you can too!
Impact velocities are maginfied at speed. At walking pace a fly is just a nuisance; at 70mph it becomes a projectile the size of a pea impacting on you at 70+mph. Fortunately a fly is relatively soft and tends to splatter on you. Imagine if it was a piece of grit or a rock or a car!! - different story. Protection should be a vital consideration with more than just a cursury thought given. Visibiltiy is crucial too and vizor misting at the wrong moment may cause you to to hit the panic button.

Masks are not new to motorcycling, however the masks that we produce and market are designed and tailored to suit most motorcycling activities, including road racing, touring, commuting, and despatch riding.

Link Up To Quality ??" The high quality and absolute dependability of RK motorcycle chains is the reason that they are factory fitted to some of the world's biggest motorcycle marques, including Honda, Suzuki, Kawasaki and Ducati
Link Up To Technology - All RK motorcycle chains are manufactured with heat-treated, hi-carbon alloy steel components and are fitted with O-ring seals made from advanced nitrite composites ensuring maximum performance and lifespan
Link Up To Choice ??" The RK motorcycle range offers the highest quality, most dependable chain for a range of motorcycle makes and models, with options in black or gold depending on the bike you ride

Respro® masks have been proven to be the best on the market.
We know this to be true - we are motorcyclists and we test them!



British Superbike Champion Shane Byrne wears The RESPRO® Foggy® Breathguard mask when he races to give him clear vision and a fog free visor for all races - crucial for that competitive edge in the wet.

He comments; "The Foggy mask is integral to my kit that I need to win, especially in the wet. It keeps my visor clear - I don´t have to think about it and I don´t have to breathe in any funny way. The mask keeps me fog free, letting me get on with the racing. I have used one for years and wouldn´t be without it in my lid."

Visor fogging is a major problem for all bikers and pillion riders, and RESPRO® has come up with a uniquely practical concept that´s 99.9% effective and is superb value for money. RESPRO®, the company well-known for developing safety products for two-wheeled road users and its anti pollution masks and scarves, has developed the Foggy® mask to keep the visor from fogging. The Foggy® Breathguard mask works with full face crash helmets, is easily fitted and once in place, doesn't have to be removed except for the occasional machine wash. It requires no maintenance - it simply fits enabling the rider to forget about it.
RK CHAINS Motorcycle Accessories
If you can't find the items you are looking for within our main site, you should be able to view the complete range from RK CHAINS by visiting their own website: (although please be aware that not all products may be available within the UK)
VISIT
RK CHAINS Website